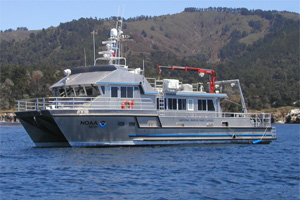 The National Marine Sanctuary Program's new 67-foot R/V
Fulmar
will be used to greatly expand and enhance research, education and emergency response programs for the west coast region. The vessel is homeported at the Monterey Harbor in the Monterey Bay National Marine Sanctuary, and also serves the Gulf of the Farallones and Cordell Bank national marine sanctuaries.
R/V Fulmar
The R/V
Fulmar
was built by All American Marine of Bellingham, Washington based on the design for the highly successful R/V
Shearwater
working at the Channel Islands National Marine Sanctuary in Southern California. The R/V
Fulmar
is a Teknicraft hydrofoil-assisted, aluminum-hulled catamaran that was designed specifically to handle the wave states and conditions found in this region. The vessel will strengthen, streamline and connect efforts along the almost 400 miles of central and northern California coastline protected by these National Marine Sanctuaries.
Mission Statement
The R/V
Fulmar
supports collaborative research, education and resource protection projects in the Central and Northern California National Marine Sanctuaries to inform and implement sanctuary management.
General Uses
The R/V
Fulmar's
primary function is research and monitoring and she is expected to be heavily utilized for up to 180 key missions including benthic monitoring along the remote Big Sur coastline, marine mammal and sea bird observations, tagging organisms, oceanographic monitoring, archeological/cultural research (primarily shipwrecks) and collecting baseline data for emerging management issues such as invasive species and marine reserves. The data collected during these cruises will help inform management decisions at all three sites and with state and federal partners. The R/V Fulmar will also serve as a platform for teacher workshops and other education and outreach initiatives.
Specifications
Project and Cruise Planning
Real-time Locations of Sanctuary Research Vessels and Data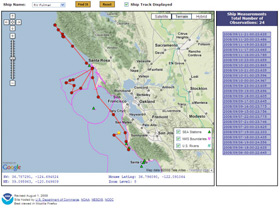 Click on the map to view near real-time positions of the R/V
Fulmar
and other Sanctuary research vessels. [
More Information
]
Downloadable Forms and Documents
Example Projects Using R/V Fulmar
R/V Fulmar Accomplishment Reports
More Information
For more information about the R/V
Fulmar
contact Jean de Marignac, Field Operations Coordinator for the National Marine Sanctuaries West Coast Region (jean.demarignac@noaa.gov).